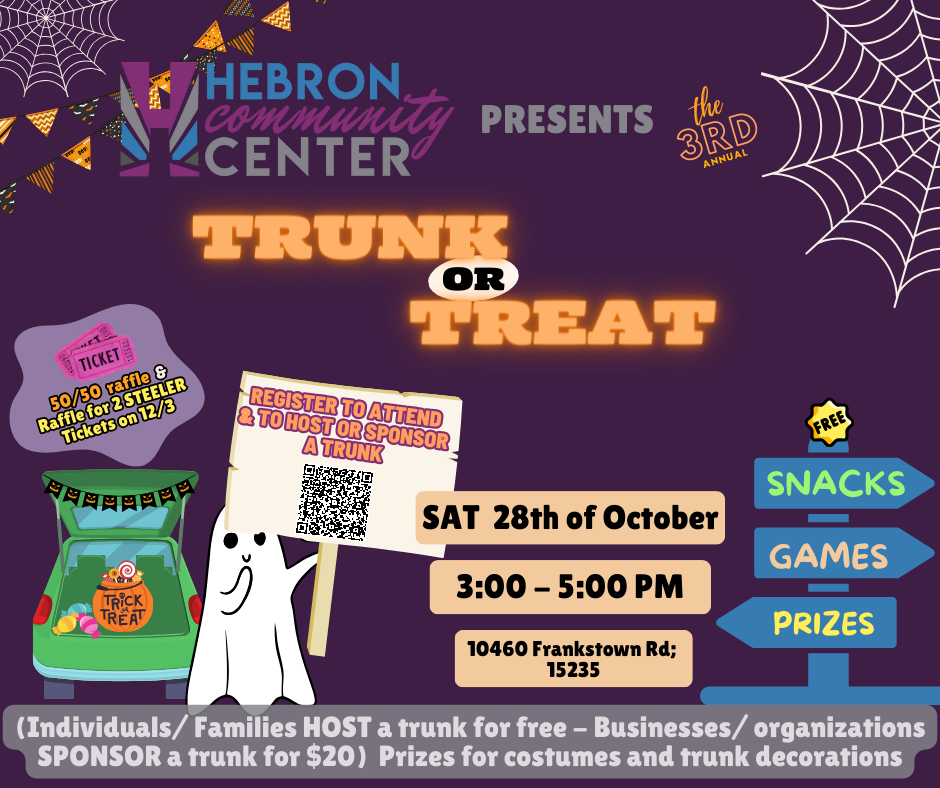 This event offers our organization the opportunity to bring together community partners (individuals, organizations, and businesses) in a fun, safe, & collaborative way.
Please join us! Bring your family to play games, trick or treat, and enjoy snacks OR host/sponsor a trunk!
Individuals/ families can HOST a trunk for FREE- This requires arriving a little early, decorating your trunk, & handing out candy.
Businesses/ organizations can SPONSOR a trunk for $20. This allows you to be eligible to win a cash prize as well as share information about your business/ organization with the community as you pass out candy.
Register NOW for the event!
There will be PRIZES and RAFFLES as well as games and food!! A 50/50 raffle as well as a raffle for 2-STEELERS tickets for the 12/3 game!!
If you want to donate candy for the event, volunteer during the event, or have any other questions please reach out to Jen at 412-212-8285.
Being intentional about community
All programs and activities take place in the

Barclay Building of Hebron Church at:
10460 Frankstown Rd
located at the end of the lower parking lot- between
Frankstown and Laketon roads(adjacent to Duffield Rd). A hillside with cemetery lies between the upper and lower buildings.
We aim to engage all demographics of our community.
All are WELCOME and INVITED!!
Given the time of day and nature of the offering,
some opportunities may not be for you.
Our hope is to offer a VARIETY of opportunities
that will allow all to engage, be known, and
become an active part of our community.
We ALWAYS welcome questions and feedback!
Reach us here!! And check back REGULARLY for updates!
Weekly Opportunities to Engage
Tuesday:
6 – 6:45pm - Zumba with Lisa
7 - 9:30pm - Open Gym Basketball
[ 7-8pm - Students- Middle/High School
8 - 9:30pm - Adults- 18 and over ]
Thursday:
6:30 - 7:15pm - Latin Aerobic Dance with Gloria
(Sept - Dec with be Praise Moves with Gloria)
7:15 - 8pm - Sept thru Sept - Book Connection Group with Gloria on "Battlefield of the Mind"
7:30 - 9pm - Open Gym Volleyball (Ages 15+)
Friday:
TBD

Please click
HERE
or scan the QR to complete a QUICK survey! THANK YOU!!
Click 'GetFIT' button below to pay the $5 class fee securely. Please use debit card if possible or choose to cover transaction fees if using credit card.

Get fit
Liaility Waivers are REQUIRED for all participants!
Please see below for appropriate waiver- Minor or Adult.
Open Gym Basketball and Volleyball are pick up game style with a very short intentional community building & devotional time interjected somewhere during the Open Gym time.
Presently the fee for Open Gym Basketball and Volleyball is $5 per month to help offset our insurance and operating costs.
To pay online for Open Gym- please use the 'Get FIT' button just above.
In the NOTES please put your '(name of participant)/gym' so that it is recorded accurately. Likewise you may pay via Venmo (HCCpgh) or CashApp ($HCCpgh)
IF participant is UNDER 18-
a legal guardian HAS to complete the 'liability waiver' before
the individual can participate.
Thank you for your understanding with this matter.